1.
How to Download the 1XBET Mobile App
1XBET max bonus (maximum bonus online)

✓

1XBET Promo code December 2020

✓

1XBET Promo code January 2021

✓

February 2021

✓

March 2021

✓

April 2021

✓

May 2021

✓

June 2021

✓

July 2021

✓

August 2021

✓

September 2021

✓

October 2021

✓

November 2021
The 1xBet mobile app download is very straight forward. The app is available for Android, Apple and Windows devices and can be downloaded directly from the main 1xBet website. Simple head to the 1xBet mobile section and you will have the options available for the 1xBet mobile app download.
Click on the Android icon and the app will automatically install on your phone or tablet. The same applies to Windows devices.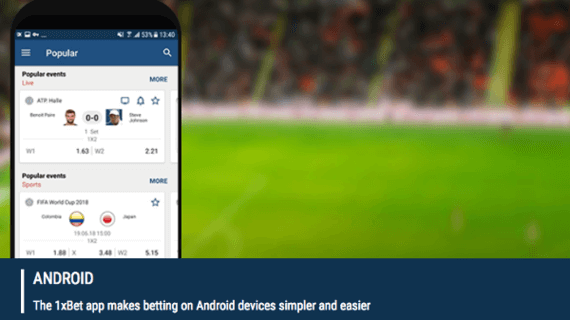 You can get 1XBET app for every mobile device!
If you want to get the 1xBet mobile app on your Apple device, simply head to the App Store where you can find the app by searching for '1xBet' in the search box. The app will download and install to your phone or tablet in the same way as any other app from the store.
You will not find the 1xBet Android app available on the Google Play Store in every country, so you must go to the website to install it but the 1xBet iOS app may be downloaded from the App Store.
You can enter your usual login details as you would when entering the main 1xBet website and begin enjoying the app. It's a classic approach, most of the online bookies have this in their offer, if you're willing to check out other mobile apps, you should check out STSBet for mobile.