Asian Handicap Table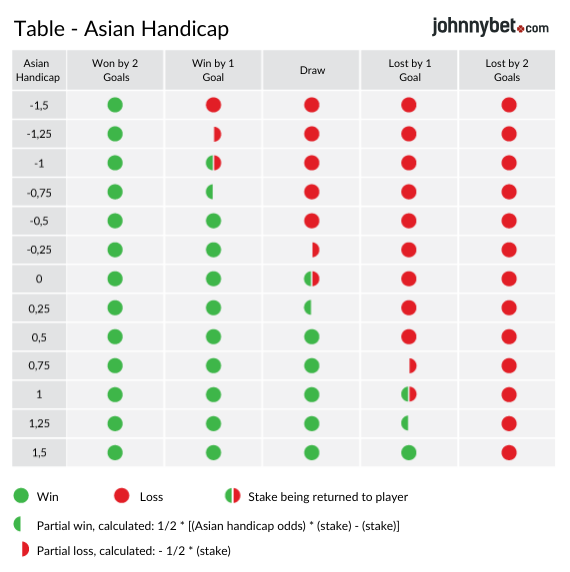 The great thing about betting on football matches online is the wealth of betting markets at your disposal. One such market is Asian handicap betting.
There are many advantages to using an Asian handicap when betting on football and gaining an understanding of this type of bet will add another dimension to your online betting experience. Read on to learn more about Asian handicap betting and where to find the best Asian handicap betting odds.
1.
How Does Asian Handicap Betting Work
Asian handicap betting can look confusing to the beginner but once explained, it is very easy to understand. The first thing to know about Asian handicap betting is it removes the draw from the equation.
This leaves you with two options, which is either a home win or an away win. However, the real basis of an Asian handicap in betting is to give the underdog an advantage prior to the kick-off in a football match.
1.1
Asian Handicap Examples:
There are many different Asian handicap betting lines for football matches but two of the most common are -0.5, -1.0 and +0.5, +1.0. So, if we take +0.5 as an example, this will be awarded to the underdog team in a match. If that match ends in a draw, the underdog team will be regarded as the winner in terms of the bet because of the +0.5 advantage.
If the home team is given a handicap of -1.0, the home team much win the match by 2 clear goals for the bet to be a winner, as they must overturn the -1 goal disadvantage they have been handed in terms of the bet.
There are many, more complex versions of Asian handicap betting but this is a good basis on which to begin.
2.
Advantages of Asian Handicap Betting
One of the major advantages of Asian handicap betting is it can make a match much more interesting if there is a team who are major favourites to win. Take Manchester City vs Cardiff City, the hosts are huge favourites to win but the odds on a Manchester City win offer no value.
However, the Asian handicap odds, which hand Cardiff City an advantage are very interesting. You could place a bet on Manchester City and hand Cardiff City a 3 goal advantage at the start of the match. The odds offer more value and give the match extra excitement.
Betting using the Asian handicap market can significantly improve your odds compared to 1x2 betting and move them more in your favour than the bookmakers.
3.
Asian Handicap Explained
A good tip when picking an Asian handicap bet is to look at teams who are heavy favourites for a game but might be below full strength. If Manchester City are playing home to Burnley in the Premier League and have a Champions League semi-final approaching, they may rest key players.
This gives Burnley a chance and if you place a bet on Burnley with a +3 goal head start, you will still have good odds but also a great chance of winning the bet. So now we consider asian handicap explained.