Each way betting is often used in horse racing and is a way to ensure you get some return on your bet, even if your horse does not win.
A classic each way bet is different to a standard bet place on which horse could win because it is made up of two parts. There is a 'win' bet and a 'place' bet. You need to make a bet on each of these, with the amount being the same on both.
1.
How does each-way bet work?
The 'win' part of the bet means the horse must come first in the race for that part of the bet to be a winner. The 'place' part of the bet means the horse must finish in any of the top positions to result in a payout. The number of positions paid out can differ depending on which bookmaker you use, so always check this first before placing an each way bet. However, it is usually either four or five places.
So, if you decide you want to place a £10 each way bet on a horse in the Cheltenham Gold Cup, you are not only betting £10. You will in fact place a total bet of £20 because you are betting on the horse to win and to come in the top 4 or 5 places.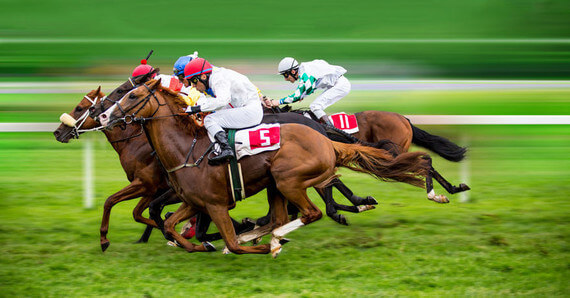 You must stake £10 for each of the two parts of the bet and that makes the total stake of £20. Think of it as paying more to cover the fact your horse could come in 4th place and still get you a return. It is like an insurance policy.
2.
How much you can win?
So, let's say you place a £10 each way bet on a horse at 20/1 to win the Cheltenham Golf Cup. You think this horse has an outside chance of winning but is more likely to finish in the chasing the pack.
The place terms are set at 1/4 to finish inside the top four.
If the horse wins, you will win a total of £200 plus your £10 stake which makes £210. This is calculated by multiplying the win stake of your bet, which is £10 by the odds of 20/1.
If you horse finishes between second and fifth place you will win £50 plus your stake which makes £60 in total. This is because 1/4 of 20 is 5, so £10 at 5/1 is £50.
If your horse wins, you will win a total of £270 but if it finishes anywhere between second and fifth you will get £60 back. Each way betting can also feature for other sports such as greyhound racing, football tournaments, golf tournaments and motor racing.