8, October, 5:00 PM (18:00 CEST)
LFF Stadium, Vilnius
The final round of matches in UEFA World Cup qualifying group F will see England travel to the LFF Stadium in Vilnius to take on Lithuania.
England will hope to have sealed first place in the group before this match but if results do not go their way in the penultimate round of matches, there will still be a lot to play for in terms of qualification to the 2018 World Cup finals in Russia.
Unfortunately for Lithuania, they will have nothing to play for in this match, as they cannot qualify for the 2018 World Cup.
However, this is still a huge match for Lithuania and their fans, who would love nothing more than to end their qualifying campaign with a win over England.
Read more about Lithuania vs England Predictions and betting tips below.
1.
Bookies Favourites
England has found World Cup qualifying Group F very much to their liking and have rarely been troubled in their matches. One look at the FIFA World Rankings shows England in 15th place and Lithuania down in 120th, below Rwanda, Lebanon, and Antigua and Barbuda.
Therefore, it's little surprise to see England come into this match as favourites.
Lithuania has won only one match at home in the group and that came against Malta. They have struggled otherwise and this is reflective in their odds of to win the match.
Perhaps Lithuania's best home result came at the start of the group when they held Slovenia to a 2-2 draw and a repeat performance in this game would be a shock.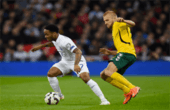 Bet on your favourite team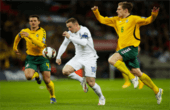 Lithuania vs England Predictions
2.
Other Bets
Ahead of their trip to Malta on the 5th October, Lithuania have lost their last six games in a row. In all but one of those matches, they lost by at least a 2 goal cushion and it would not be a surprise to see them lose by a similar margin in this game.
England won the reverse fixture by 2 goals and could do the same here. England to win by 2 goals is with Bet365.
England tend to defend well when playing away from home against teams they are expected to beat. While they are rarely spectacular, they get the job done and we can expect to see another solid display in this match. Bet365 offer for England to win this match to nil.
There hasn't been one stand out performer in terms of goals for England in this group. They have shared the goals among several players but one man you cannot ignore is Harry Kane. The Tottenham striker has scored 6 goals in his last four England games.
Lithuania will struggle to get anything from this game without Fiodor Černych and Arvydas Novikovas. They have scored 5 of Lithuania's 6 goals heading into the final two fixtures.
England has a significantly stronger pool of players to pick from and if they have sealed qualification prior to this match, may choose to rotate their starting XI.