Horse racing is perhaps one of the favourite sports among bettors and that is why we have created this beginner's guide to betting on horse racing. It has long been linked with gambling and you only have to look at the betting surrounding the major horse racing events around the world to understand the significance of betting on horse racing.
The Preakness Stakes, Grand National, Kentucky Derby, Prix de l'Arc de Triomphe, Melbourne Cup, and Nakayama Grand Jump are all examples of horse races staged around the world that attract huge amounts of money in bets.
For those who are new to the sport, you will find our complete beginner's guide to horse racing betting below, beginning with how to choose a bookmaker.
1. How to Choose a Horse Racing Bookmaker
We begin our guide to horse racing betting for beginners by taking a look at the factors you must consider when choosing a horse racing bookmaker. The main consideration when selecting a horse racing bookmaker should always be the quality of the odds. If you are planning to bet regularly on horse racing, betting at the best odds should be a priority. Various bookmakers will have different odds for horses in the same race and you want to bet at the biggest price possible to ensure the maximum amount of profit, should you win.
One of the most common types of horse racing bet is the Each Way bet. We will come to Each Way betting in more detail later in our beginner's guide to horse betting online. However, when choosing a horse racing bookmaker, you want to ensure the bookmaker you are using pays out to the maximum number of places. You will be very disappointed to see your horse finish in fourth place and have a losing bet, only to realise if you had place the same bet at a different horse racing bookmaker, they would have paid out on fourth place.
Finally, when choosing a horse racing bookmaker, always look out for the best bonuses. There are many online bookmakers who offer fantastic welcome bonuses whereas others will have dedicated promotions for horse racing. After reading our article you should realize it is really important to know how to choose a suitable bookmaker, so apart from bonuses, check also other features. We come to bonuses in more detail as we continue our beginner's guide to horse racing betting by looking at how to claim a horse racing bonus.
2. How to Claim a Horse Racing Bonus
We continue our complete beginner's guide to horse racing betting by taking a closer look at how to claim a horse racing bonus. The best way to do this is by using a website where you will not only find a comprehensive range of horse racing bookmaker reviews but also access to the latest bonuses, including exclusive bonus codes.
| Horse Racing Bonuses | Details |
| --- | --- |
| Free Bet | A bonus that is given to you without any deposit |
| Deposit Bonus | A bonus that is given to you depending on your deposit amount |
| Reload Bonus | A bonus that is given to you on a given day of the week |
| Cashback Bonus | A cashback that is given to you for your won/lost bets |
By using a website such as JohnnyBet or BonusCodes, you can search for the best horse racing bonus and click on the link to be taken directly to the bookmaker website. However, before you do that you will need to copy the bonus code. Doing so will allow you to complete the registration form on the bookmaker website and simply paste the bonus code into the required field.
By completing this easy process, you will become eligible for the horse racing bonus. All you need to do is meet the wagering requirements and you are good to go.
3. How to Bet on Horse Racing
As we already pointed out in one of our articles, learning how to place a bet is not difficult. When considering how to bet on horse racing, you will need to learn the different horse race betting markets. There are several markets available including Win, Place, Place Forecast, Forecast, Trio, Tierce, Quartet, Quadro, Roll Win, Roll Forecast, Accumulator, and Quadrella. Some of these, such as Win and Place are easy to understand whereas others may need some research before you make your horse racing bet. You should never bet using a horse racing market without having a full understanding of what it means.
For example, when betting on a Quartet, you must select four horses that will end up in the first four places, in any order. However, when placing a Quadro bet you must select four horses that will end up in the first four places, in the exact order they finish. As you can see, they are similar but have a crucial difference and it is important to know these differences before betting on horse racing.
Earlier in this beginner's guide to horse racing betting, we touched upon Each Way betting. This is extremely important when learning how to bet on horse racing. If you back a horse Each Way, they do not have to win the race for you to win the bet. You are actually placing two bets, one for the horse to win the race, and one for it to 'place'. Depending on the size of the field and your chosen bookmaker, the horse can place in second, third, fourth and even fifth and result in a winning bet. An Each Way bet will cost you twice the stake of a standard win bet but you have two chances to win.
4. Tips for Horse Racing Betting Success
It does not matter how lucky you feel you are when betting, you should always consider horse racing tips. There is no substitute for an experts opinion and you should always read a selection of racing tips before placing your bet. There are many online publications available where you can find free tips for horse racing from leading tipsters.
However, you should also be willing to complete your own research before betting on horse racing. All the statistics you require are available for free online and you can check the horses form plus the jockey and the conditions of the race.
Some horses prefer racing on a specific type of surface such as firm, good to firm, good to soft, soft, and heavy. In horse racing terms, this is known as the 'going' and different horses enjoy different ground conditions. You must have this knowledge alongside our beginner's guide to horse racing to hand before placing a bet.
No matter what your knowledge is, it is also wise to check and get familiar with some of the sports betting systems and strategies we enlisted for you to increase the chance of winning.
Also, below you will find a very helpful guide written by one of our dearest tipsters, Sallyboom. We encourage you to read it as there is a huge amount of knowledge waiting for you.
5. Introduction to Betting on Horse Racing
Horse racing is one of the oldest and riskiest sports to bet on. While betting on horse racing you need to control all of your actions, even when experiencing a considerable adrenaline rush. Otherwise, emotions will lead you down the wrong path and in the long run you will only end up losing money.
In this guide, I will try to show you the basics of the horse racing world in the best possible way. I hope that everyone who reads this blueprint will take heed of my knowledge and experience.
6. Horse Racing Bankroll Management and Strategy
Horse racing is one of the most lucrative sports to have a flutter on, but it is also very hard to predict with a lack of necessary knowledge.
Before I started to bet with real money I was only betting virtually. During that time, I created my own, small database. I first bet with cash after I exceeded a previously established 35% yield level. Due to the knowledge and experience I had accrued, this bet was a winner.
In the world of horse racing, many good punters want to keep to a 25-35% yield at least, which will convert into a very nice profit, especially in comparison to time spent and amount of bets placed.
The most important factor in horse racing betting is horse racing bankroll management. You should set your bankroll at the very beginning, even before your first bet. I recommend the bankroll approach, which can cover thirty lost bets in a row. Betting on horse racing requires a huge amount of perseverance, so people who give up easily have a small chance of achieving long-term success. The most important attributes for a horse racing punter are discipline and determination. In addition, the ability to recover from losses is essential.
For people who are just starting to bet on horse racing, I recommend stakes of between 1% and 1.5% of the bankroll. From the outset you should take the risk into consideration and stick to your predetermined strategy. In this sport there are no "sure bets" on which you can risk your whole budget. Every pick is really risky. You should try to choose a strategy based on your bankroll and way of life. Do not place multiple bets on horse racing, because the risk also multiplies and the bet becomes unprofitable. The same goes for progressive systems. It is better to keep the flat stakes related to the bankroll, i.e. around 1% to 1.5% of the whole amount in the early phase. The face value will grow naturally with winning bets leading to an enlarged bankroll thanks to the proper horse racing bankroll management.
7. How to Choose and Analyse Picks
At the beginning, the best solution is to choose just one kind of racing and focus on it alone. Use a notebook where you can write notes about horses, especially the ones that interest you. It will be your own database, on which you can fully rely. Such a directory, which you can use at any moment, is a very important part of betting. Of course there are plenty of websites, where tipsters add their predictions. However, if you want to achieve success you need to focus on your self- improvement, not on the work of the others.
The most important information to note down is weight balance, and the names of the jockeys who are in good form or have considerable potential. The next most important details are the race meets and weather that day. Some horses often have problems running on wet surfaces, for example. That information is especially worthy of note, because your own database will soon be your biggest source of knowledge.
Any further progress you make depends on time, which you can spend on strategy development. By focusing on one kind, you narrow the range of horse races you will work on to just a few a week. Never pay much attention to the horse with the funniest name or the best weight. One of the most important factors is current form, which is usually available from almost every bookmaker. If you have more time, check previous races and note every piece of important information.
8. Betting on Horse Racing
To get the best value on your pick I recommend placing bets with this bookmaker, which offers an option called B.O.G. (Best Odds Guaranteed). Then you will be sure that you are getting the best possible odds on a given horse. To give you a better idea about this option, take a look at the example below:
You bet on a horse named "Ned Stark", with odds of 3.75. After a while the odds increase and just before the start, the bookmaker is now offering 5.65 for "Ned Stark". Thanks to B.O.G., the odds on your coupon will be updated to the starting ones, i.e. 5.65.
This option, luckily, only works one way, so if the starting odds drop down to the level below you bet on, your odds will not be decreased.
B.O.G. is offered by many bookmakers, such as bet365, William Hill, Canbet, Betfred, Paddy Power, Ladbrokes, Coral, Totesport and Betvictor. Information about B.O.G. is usually provided by the bookmaker after you choose your horse racing offer.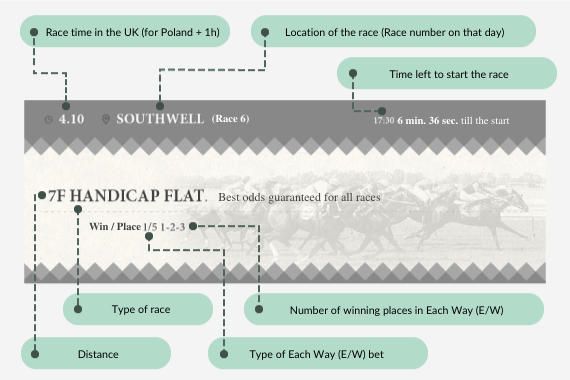 Horse racing has a really wide range of odds, from really low odds such as 1.2 to very high, sometimes even over 300. It is very important not to be afraid of betting on horses with high odds (of course, it must be supported by solid analysis and knowledge). In our many years of betting I have met a lot people who were afraid of betting with high odds. They would say that the chance of winning is just too small. These were people who constantly fall into the bookmakers' trap by betting on bets without value (odds under 2.5).
After a while all of you will know exactly when taking a risk is profitable and how to unearth valuable odds.
9. Horse Racing Research
Horse racing is constantly popular, so access to reliable information is quite easy. The easiest way to acquire data is to follow the social media profiles of horse racing stables, jockeys and coaches. You should also regularly visit websites devoted to horse racing like "SkyRacing", "The Guardian" and "At the Races". They publish very useful information about training, race meets and horses. However, do not pay much attention to their picks, as they are usually written by journalists rather than real experts. Information, such as brief descriptions of runners, is also available on bookmakers' websites.
Many beginners do not know exactly what they should look for. Let's take a closer look at the topic of horse betting tips for beginners. Personally, I mainly look for the information listed below:
Training:

If there were any problems during training, the speed of the horse, how the horse was jumping over fences.

Weight:

Is the horse lighter or heavier since the last race (after a good race, many horses have weight problems in their next race).

Jockeys:

Which jockey will ride in the race? Has he already had experience riding that particular horse? (in many cases, jockeys who ride the same horse a couple of times know its possibilities).

Value of horse:

This is the kind of information which is often overlooked by journalists and tipsters. In my opinion, this is a very important factor. The most expensive horses come with high expectations from stables, trainers and owners right from the outset.

Form:

It is very important to check the horse's form. You should look at how the horse has performed in previous races, which horse did your horse lose to, and what was the winning margin, the weight difference between the top horses. In my opinion this is one of the most important factors in your own database. That is why you will sometimes need a lot of time to analyse picks correctly, to watch previous races, to learn from your own mistakes and note everything down.

Odds:

You have to keep a careful eye on the odds and how they are changing. Sometimes promising horses are given odds that are too high at the beginning, and sometimes odds are too low in the morning. You should also look at odds that are moving upwards fast, as this can be a sign of problems with one of the horses before the start of the race.
10. Horse Racing Terminology
In the next part of this beginners guide to horse racing, I've put together a short horse racing dictionary, together with a short description.
The most important thing in horse racing is a knowledge of Each Way (E/W) bets. In this kind of bet, your stake is doubled and the wager is separated into two different bets - a win bet and place bet. If the horse wins the race, both bets are won. If the horse does not win but takes one of the "predetermined places", then the "win bet" is lost but the "place bet" is won. You will lose both bets if the horse finishes outside the predetermined places.
In most cases, the number of places that count towards an Each Way bet can be found at the top of your race card.
An Each Way bet can pay 1/4 and 1/5 of the odds for a win.
Example number 1: Win
Bet on: "Ned Stark"
Odds: 12.00
Stake: 10 (2x5)
Result: "Ned Stark" wins
Return: 12*5 + (12/4)*5 = 60+15 = 75-10 (stake) = 65
Example number 2: Second place
Bet on: "Ned Stark"
Odds: 12.00
Stake: 10 (2x5)
Result: "Ned Stark" takes the second place
Return: 12*0 + (12/4)*5 = 15-10 (stake) = 5
We can divide horse racing into three different categories: Flat Racing (horses gallop over a level track), Jump Racing or Hurdling (common races with hurdles; these often take place over longer distances) and Boxed Racings (sprints over short distances). Often on race cards you will find additional kind of races, e.g. Handicap Flat. Below you can find the most typical ones.
| Race Types | Details |
| --- | --- |
| Claiming Race | All horses are available for the same price |
| Derby Race | For horses that are the same age (3 years old) |
| Distaff Race | For female horses |
| Handicap Race | Horses carry different weights allocated by the handicapper |
| Maiden Race | For horses without a win |
| Route Race | Over one mile or longer distances |
| Sprint Race | Over distances shorter than one mile |
| Stakes | High-level races, where only quality horses run |
That was some basic information about horse racing, which I tried to prepare in the most accessible way. I did not want to use a lot of uncommon terminology and write about unfamiliar issues, because it is a guide for the beginners. In the near future I will create another guide, but for more advanced users, where I will provide the more detailed information which helps me to choose the right bets.
11. Final Advice
DISCIPLINE - it is important to be disciplined and to pursue your aim. If you choose one kind of race and strategy - stick to it! Do not get discouraged after a couple of losses. In that way you will never achieve success and only fall into the bookmakers' trap.
At the very beginning, it's worth checking your favourite tipsters (ones with good profit and a yield above 10%), but do not forget about gathering your own information and to bet on your own.
Equally important as betting on your own is creating the right atmosphere. I like to listen to my favourite band and calmly analyse, check races and note everything down.
Do not be too enthusiastic after a couple of wins, because it can result in making wrong choices without a solid analysis. In consequence, it can turn into negative return and nobody wants that.
Do not bet on the "bad days" or when you are going through personal troubles. If you are nervous, tired or even depressed, you will just exacerbate your problems.
Do not bet without carrying out a solid analysis. The most important thing is sticking to the rules. It should bring you the success, not only in betting but also in real life.
Start with the races you are interested in - those in which you know what's going on. I started with flat racing, because the races are much easier to predict than hurdles, where surprises occur really often.
Choose one market in which you are interested. At the beginning I recommend the most popular races in UK and Ireland. Do not bother with more exotic markets. They are much harder to predict, because there is less information available. You can try those markets after couple of years, when you accrue enough knowledge and experience.
Take a break when you go on a bad run, and on a good run. Sometimes, after 2 or 3 days off, you will have a brighter and more focused mind, and it will be much easier to move onto your next bets. After really good days you can get out of control and as a result lose all of your winnings. The same goes for a bad run. Sometimes too much information in our heads will cause bad results and this kind of break will get us back on the right track.
These are the most important factors - I've been paying attention to these for many years and I have no desire to change my approach. I hope this information will be useful to you, and that your accrued knowledge will help you achieve successes versus the bookmaker.
I wish all of you good luck in pursuing these goals with this racing betting beginner guide.
12. Beginner's Guide to Betting on Horse Racing FAQ
12.1 🐎 How do I learn to bet on horse racing?
Best way to learn betting on horses, apart from reading websites devoted to this topic and following the advice presented in this article, is to simply trying your luck and working out your own strategy.
12.2 🐎 Which horse races can I bet on?
Cheltenham, The Kentucky Derby and Grand National are examples of popular horse races you can bet on.
12.3 🐎 What are the best bookmakers to bet on horse racing?
We recommend bet365, William Hill and Unibet for all players reading our beginner's guide to betting on horse racing, as they offer attractive promos and bonuses for bettors.