Everybody's Jackpot video slot machine for free was released by the famed Playtech, and is one of the more unique slot machine style games. First off, it was designed much like a television game show. It has no reels like standard slots, but instead utilizes a 3X3 grid and a communal jackpot. The gist of a community jackpot is that a player must have wagered a certain amount in order to become qualified to win the actual jackpot. The minimal bid tends to vary between £0.40 per spin at its least expensive and around £8.00 at its most expensive.
1.
Jackpot Online Video Large Payouts
Compared to some of the slot machine games, Everybody's Jackpot slot machine graphics may seem somewhat cartoonish. Not to say the artwork is not impressive, but just in a Sunday morning cartoon kind of way. Envision a rather cheesy game show host and a Jennifer Rabbit style assistant, and you've got it. The best pay out symbols used are rolls of dollar bills, golden bars, watches and necklaces. Each icon pertains to money or riches in some way. The scatter icon is the Everybody's Jackpot logo and when two or more accumulate, players get scattered rewards. Slot enthusiasts will get 1x win for 23 scatter icons. They can also get 3x, 10x and 25x wins for 3, 4 or 5 icons, along with 12 free spins staring at 3x. Some players win big, getting 50x, 100x and 150x for 6, 7 or 8 scatter symbols. The largest win is a 200x payout which requires 9 scatter symbols, but this is a rare win.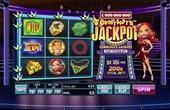 Play Everybody's Jackpot online video slot machine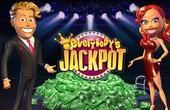 Play Everybody's Jackpot video slot machine for free
All wild symbols are different, but Everybody's Jackpot slot machine wild symbol may be the easiest to recognize. It is a swirly, spiral of green in a square border with the word wild, clearly printed.
2.
Uniqueness of This Slot Game
Everybody's Jackpot online video slot game is unique for an abundance of reasons from its play style to its graphics. What perhaps makes it the most interesting is that Playtech deemed it a new, progressive type of slot with the first community based jackpot. Even more unique is the fact that the jackpot itself, though progressive due to bets, remains a mystery till the win. The winner will actually receive 70% of the actual prize.
Best Prize Proportion
The remaining `15% is then distributed to other gamers currently playing, who have placed the minimum qualifying wagers on Everybody's Jackpot online video slot machine. Each player gets a prize in proportion to their bets during the last 24 hour period. A good example would be a player wagering £100 gets a larger portion of the 15% than one wagering only £50. Progressive jackpots are triggered randomly; however they are not available during the free spins bonus round.
Where You Can Find This Slot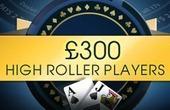 Register at William Hill and get £300 bonus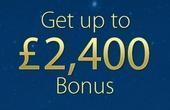 Register at Europa Casino and get up to £2400 bonus
Though it is a different concept then standard slots, Everybody's Jackpot online video slot machine is available at Europa and William Hill online casinos with bonus welcome packages. The progressive jackpot prize has been gaining popularity among those with limited finances available, as they always win as long as they wager. Those ready to enjoy a good mystery jackpot will definitely want to sign on for Everybody's Jackpot online!
Everybody's Jackpot video slot machine for free, online Everybody's Jackpot slot machine, Everybody's Jackpot online video slot game, Everybody's Jackpot online video slot machine