1.
So How Does It Work?
EveryFan max bonus (maximum bonus online)
EveryFan Bonus code December 2022
EveryFan Bonus code January 2023
February 2023
March 2023
April 2023
May 2023
June 2023
July 2023
August 2023
September 2023
October 2023
November 2023
This is a social gaming site where you are up against other punters, or you can even set up your own tournaments with friends. Everyone pays a small entry fee, with the exact amount dependent on how big the prizes will be, although a great EveryFan bonus is the number of freeroll tournaments that cost nothing to join and feature real cash prizes. Players decide on the tournaments that appeal to them, picking from the packed schedule page which details how many are competing, the buy-in price, prizes and timescales. Each player gets 10,000 points to play with and they use these to place virtual predictions on games throughout the time that it runs for.
The aim is to beat the others with the most accurate predictions, with the winners taking home the prize pots. A tournament leaderboard shows everyone where they are standing at any time, and the higher up the rankings each player is, the more cash they will win.
Live-in play betting where the odds can be adjusted as the match unfolds are a great feature, and while Football is currently offered, EveryFan will be adding a whole range of other sports in the near future.
You can spread your stake around as many different outcomes as you like, reducing the risk of losses, and place ACCA bets, or cashout at any time if it looks like things are not going to go your way. Thanks to a UK Gambling Commission license, players are guaranteed that EveryFan can be trusted at all times.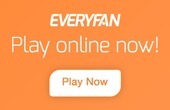 Register at EveryFan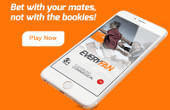 Download EveryFan mobile app