1.
EZ Scratch Games
Ezscratch max bonus (maximum bonus online)
Ezscratch Bonus code August 2022
Ezscratch Bonus code September 2022
October 2022
November 2022
December 2022
January 2023
February 2023
March 2023
April 2023
May 2023
June 2023
July 2023
A good selection of fun games are offered, each with a theme, and the possibility to get an instant win. Without an EZ Scratch games bonus code or deposit, you can start playing selected ones for free. Nicely drawn cartoon characters feature on each game, so Royal Wedding for example, is a great example of Ezscratch scratch cards and has a beautiful princess in her castle, while hidden behind the nine panels are Kings, Princes, Pirates and Soldiers. Match at least three panels for a prize payout.
In the Drunk Hunt game, a Hunter has had a little too much to drink, and is trying to shoot the local wildlife while his aim is off. Ducks fly across the screen, and you click on them as they go by to win prizes. If you hit them, you can enter a bonus round, where you select one of three bushes and a Fox will jump into it, catching more Ducks for a further win.
Viking Craps has colourful warriors throwing dice, with prizes awarded if Olaf throws a higher number than the one shown on a board behind him.
Others have names like Undersea Treasures, the farmyard based Who's Your Daddy?, and the ghost themed Triple Juice. Sixteen games are currently available, with more being added over time.
These games show you just how diverse their range is, so it's not just a simple set of scratchcards on offer, and there is plenty of variety for players to enjoy. With such varied gameplay, it's useful to know that a set of rules is provided for each one, but they are all easy to master once you know the basics.
You can play the Ezscratch range on desktop computers and laptops, or they can all be found in mobile-friendly versions for smartphone and tablet use.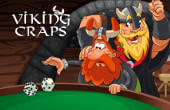 Play the best Ezscratch games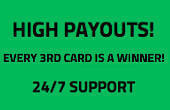 Ezscratch review