Fantasy Football - we've all heard the term being thrown around, be it by colleagues at work, or friends who have a league of their own. But Fantasy Football for real money is a relatively recent concept.
1.
Fantasy Football?
The basic idea remains, all users have the same initial transfer or salary budget, and from here they can buy an entire team of 11 players (or sometimes more, depending upon the platform). Based on the players' real life performances, each virtual player will gain or lose points. For example, if a real life player scores, receives a red card or assists a goal, their virtual equivalent will earn or lose points based on this. From here, dependent upon the competition, the team's accumulative score contributes to a league table, a daily total or anything else you can imagine. Get the picture?
Now you're asking yourself, how has this seemingly simple concept grown into an entire industry? Well look no further than companies pioneering the concept and developing it further such as Mondogoal.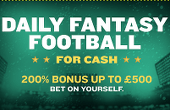 Register with JohnnyBet and claim bonus!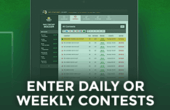 Win cash every matchday
2.
Win Real Money!
Mondogoal offer fantasy football in a variety of different ways, where users can win real money. Traditional fantasy leagues work over the course of the entire season, where each match weekend contributes to an overall league table and rewards are given out at the end of the season. Mondogoal has understood how frustrating it can be for a user to essentially place a bet in August and have to wait until the following May until they potentially get paid. This is why Mondogoal has introduced daily and weekly competitions, so users can enjoy the same experience, but reap the benefits in days or even hours rather than months.
If you're looking to introduce your friends, you can join the same league and compete against them and numerous other strangers or compete head to head. Simply pay an entry fee, and dependent upon your performance relative to the other competitors, you'll win a grand prize, or a consolation prize.
3.
Pros of Mondogoal
There are certainly others in the market who have jumped on the bandwagon of making money from fantasy football, but Mondogoal has changed the levels again, and taken it a step further.
With Mondogoal, you have the flexibility not only to use players from the Barclays Premier League, but a whole host of other leagues and competitions all over the world including Serie A, Football League Championship, Ligue BBVA, Ligue 1 and more. On top of this, there's even unique "Global Contests" where users can select players from multiple league to create hybrid teams; this opens up a whole world of opportunities meaning Ronaldo, Hazard and Ibrahimovic could be on the same team, incredible! To take advantage of everything that Mondogoal has to offer, make sure you register through JohnnyBet's portal to receive exclusive offers including a bonus 200% on depositing – there is no bonus code required to receive these rewards, just use our portal.
Choose players from all over the world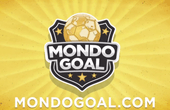 Fantasy football for money
Real also: Fantasy Premier League For Real Money
Tags: Fantasy football for money, real money, weekly, daily betting, fantasy league, cash, Barclays Premier League, fantasy football league, soccer, fantasy Serie A, Ligue BBVA, Primera Division, Ligue 1, UEFA Champions League, Europa League, Euro 2016 fantasy football, fantasy soccer for money.