Jacks or Better is perhaps the most popular Video Poker game, where players have to build a hand of five cards to win a prize. Video Poker is a quick game where round after round can be enjoyed, and a certain amount of skill is needed to get the best combinations from the cards dealt out on the screen.
Most online casinos carry at least one Jacks or Better game to download, but some of the best are found at StarGames and William Hill Casinos, both of which hand out special welcome offers to JohnnyBet readers.
1.
About Jacks or Better
Like other Video Poker games, Jacks or Better is something of a combination of slot game and Poker game, played out on a screen which has a playing area, a paytable, and control buttons below. The aim of Jacks or Better is to build a Poker hand consisting of at least 2 Jacks, with anything closer to a Royal Flush paying out progressively bigger and bigger prizes.
To start a round of Jacks or Better, players need to place a wager, and then click the Deal, or Draw button. This will reveal 5 cards, randomly chosen by the software which at StarGames and William Hill is guaranteed to be completely fair to the player due to the Random Number Generator (RGN) programmes used in their free download Jacks or Better Video Poker games.
The player then gets to decide which cards they wish to hold, and which to discard by clicking on them as required and once satisfied with the selection, they again click Deal, or Draw. This will replace the cards that they chose to discard, creating a new hand from which the computer will calculate what, if any, prize has been won.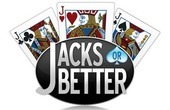 Jacks or Better video poker free download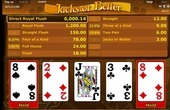 Jacks or Better game download for free
In Jacks or Better, payouts range depending on the casino, but players can expect to win their stake back for 2 Jacks, with 2 pairs, Three of a kind, Straight, Flush, Full House, Four of a kind, Straight Flush and Royal flush all paying out better and better prizes, with $1,000's often being the reward for getting a Royal flush.
Jacks or Better Video Poker is won or lost in just a couple of clicks, making it an exciting and fast paced game. Video Poker has been popular since the 1970's, when the technology first became widely available. As well as Jacks or Better, you will also find games like Deuces Wild, where the 2 card substitutes for all others to help make up winning hands, Jokers Wild, which as the name suggests has the Joker as a wild card, and Tens or Better.
Each game type has its' own payout schedules, and to make it easier to see what each combination of cards will pay, the table details how many times your bet amount will be returned to you for winning hands. Whatever game you are playing, the theoretical returns are the same, at around 98%, so for every $1 wagered, you can expect an average of $0.98 to be won over many hands.
Most online casinos feature at least one Video Poker game, and when you download Jacks or Better Video Poker for free at certain casinos, you can play using special bonuses only given out via JohnnyBet
2.
William Hill Welcome Offers
William Hill Casino will treat new players using the code BETEXVIP to free, no-deposit spins, a 100% first deposit bonus, up to £150/€200, or even £300/€400 for high rollers, and then lots of monthly bonuses that can be worth £1,000's. You can download Jacks or Better Video Poker for free at William Hill.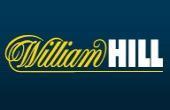 Play Jacks or Better at William Hill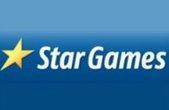 Play Jacks or Better at StarGames
3.
StarGames Welcome Offers
Join StarGames via the form on JohnnyBet to be granted free spins with no deposit needed, then once a first deposit is made, the casino will double its' value with bonus funds up to €100, plus there are 5,000 'Star' loyalty points for free, which can be used to play more games with.
No Jacks or Better Video Poker download is needed at StarGames as all their titles are played online.