Banc De Binary as the largest trading firm in the world having services in more than 80 nations throughout Europe, Asia, North America and India is without any doubts a novelty on online market. Binary options are taking the financial world by storm and are rapidly replacing traditional methods of investing with over 90 tradable assets such as: currency pairs, stocks, indices and commodities, 24/7 uptime, and the ability to fine-tune every detail of every trade. This service is designed especially for those who are interested in trading and earning money in an easy way. Let's spend some time on reading binary options review which will provide you with useful information about Banc De Binary.
1.
Binary Options Trading
Visiting Banc De Binary for the first time may appear to be very complicated. In fact making yourself familiar with Banc De Binary service takes only few minutes and will not cause any problems. The most important while entering into Banc De Binary service is to spend some time on reading about options available in Banc De Binary. Binary option is known as an all-or-nothing option or a digital option and is based on trader's decision whether the value of asset will go "up" or "down" over a set period of time. The payout is a predetermined price or nothing depending on whether the trade is correct or not. The process of trading via binary option is very simple. Trader has to just open an account and go directly to the trading platform where he chooses the asset he are is willing to trade and the expiry time. The next step is trader's choice if the value of the asset will go "up" or "down" and entering the amount he wishes to invest. As I mentioned above binary options online is very simple and even beginners won't have any problem with trading via Binary Options.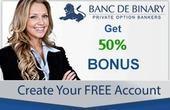 Banc De Binary bonus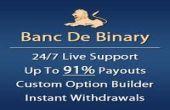 Banc De Binary Options
2.
Trading Platforms
It's worth to bear in mind that binary options trading is available in form of 5 secure and innovative trading platforms. Traders can choose from: Digital Option Pro, Option Builder, One Touch Platform, 60 Seconds and BinaryMETA. Each platform is unique and it depends only on the trader which platform he will choose. Let's briefly concentrate on each platform in order to make a conclusion which seems to be the best. In Digital Option Pro Platform it's all about determining whether the digital option will end at a higher or lower rate than the active trade rate when you entered the trade. The moment you have committed to the trade, the platform automatically monitors your trade and exits at the appointed time without the need of being logged into the system. The Option Builder is relatively new method and is becoming popular especially among more experienced traders who understand the market. They can trade in the way that suits them best, controlling their own risk and their own trading schedule. Very interesting seems to be the next option called One Touch Platform. This option is very unique and offers up to 500% payout on every trade. In this option is all about predefined rates needed to win the trade, rather than the trader simply predicting whether the value of the chosen asset will increase or decrease. If you are looking for the quickest trades found online you should choose 60 seconds trading. This platform is ideal for traders who are excited by the prospect of quick rewards. In 60 seconds platform the most important is if the value of an asset is clearly moving in one direction and you can take full advantage by conducting a number of successive trades to maximise your profits. The last but not the least platform connected with binary options online trading is BinaryMETA, which is the most advanced platform of Banc De Binary. It's main aim is going beyond the typical boundaries of binary option trading. This platform gives you unprecedented analytical tools thanks to which you can follow an asset's history from the moment it started trading. It helps you to analyse your options and make real-time decisions.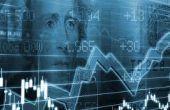 Banc De Binary Option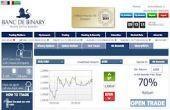 Banc De Binary Trading Platforms