There are many Fantasy Premier League tips which may increase your chances to win. With our guide, you can be sure you will learn the basic knowledge which, alongside our FPL analysis, may bring you closer to success. If you have never played it, don't worry – it's super easy to understand FPL rules and guidelines. But what is Fantasy Premier League all about exactly?
FPL is an online browser game which becomes more popular every year. If you wonder how many people play fantasy premier league - for the 2021-21 season, over 9,000,000 players went through the Fantasy Premier League registration to virtually compete with other contestants. That makes FPL the most popular fantasy game in the world. Theoretically, FPL wants you to choose a couple of football shirts and try to win, knowing even if you're lucky, the final results may be random. So, why do so many people play it?
1.
Fantasy Premier League Rules
Let's start from the basics and answer the question "how does fantasy premier league work?".
Who wouldn't like to be a manager having 100 million pounds to spend? Who would say no to being a manager who himself decides how to spend that money to create the strongest and most balanced squad in the game? That's the magic of FPL rules – everyone has the same chances and opportunities. Your place at the end of the season depends on your managerial intuition, nothing more.
Every Fantasy Premier League squad consists of 15 players – two goalkeepers, five defenders, five midfielders, and three strikers. Eventually, in each game week, only 11 of them perform – at least one goalkeeper, three defenders, two midfielders, and one striker. According to FPL squad rules, if one of you lined-up players doesn't play in real life, the first player from your bench substitutes him. FPL players are real Premier League stars we watch every weekend on television or from the stadium. Every EPL player has their price, which, in theory, should reflect their Fantasy Premier League points potential.
How to play Fantasy Premier League? The platform is available via the official Premier League website (you need to go through the FPL sign up form and open your account). Players receive FPL points up-to-date accordingly to their real-life performances and match results. The immediate influence of match results on points is yet another reason why playing Fantasy Premier League is so popular.
FPL managers can choose the name of their team (you can be creative here) and the shirt's design – even such a small element of personalisation encourages people to join this game. Every manager's decision is verified not by algorithms or computer programs but by real life – your team's final result depends on real players and teams' performances. That's a key to understanding how to play FPL.
Similarly, real-life results decide about your success in our free 1x2 tipping contest where you can participate in a weekly prize pool of €300. During the season, there are many Premier League matches for you to predict the winner, so if you think you can guess the final results correctly, sign up and join our competition.
2.
FPL Players Prices
Fantasy Premier League players' prices don't have a direct connection to their real-life worth. That's encouraging when you have only 100 million pounds to spend. For example, Mohamed Salah, the best player last season (265 points), is worth 13 million pounds. For Harry Kane, the best striker of the previous season (192 points), you have to pay 11.5 million pounds. Finally, the best defender in FPL, Trent Alexander-Arnold (208 points last season), is available for 7.5 million pounds.
Such FPL prices make managers compromise. Every season, Fantasy Premier League prices make it impossible to have only the best scoring players in the squad. You can't have Salah, Son, Kane, and Kevin de Bruyne in your Fantasy Premier League roster at once – usually, only two of them are possible. How to choose players in FPL to score the most points over a few game weeks? That's the challenge managers face every week.
Are FPL player prices high? Well, they can be even higher – they change throughout the season. Rises and drops of Fantasy Premier League player prices are caused by managers themselves. Advanced algorithms follow managers' transfers and shape prices based on the current popularity of given players. Some players who play amazingly well and are popular among FPL managers can go up even by a million pounds.
While explaining how to play Fantasy Premier League, we need to mention one more obstacle. You can't have more than three players from the same team in your squad. Even if you're a die-hard Liverpool fan, you can have up to three of the Reds' players. That's why so many managers wonder how to build FPL squads – they have to look for alternatives and compromises.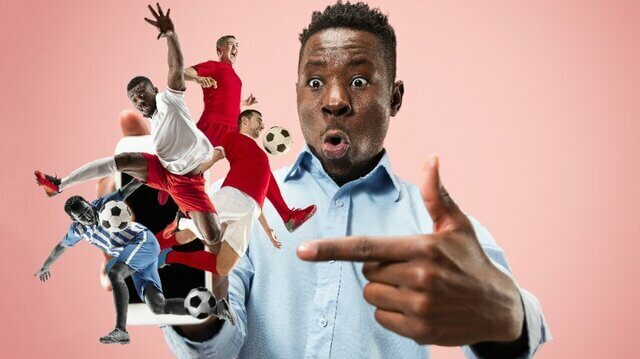 3.
How Fantasy Premier League Points Work?
In our guide to how to play Fantasy Premier League, it's time to learn how FPL points work. The rules are simple – each position has a separate points sheet, and it's easy to control your players' scores. The only shared score is for time on the pitch – one point goes to a player who plays not more than 59 minutes, and two points are for players who play 60 minutes and more. Additional points are for goals, assists, clean sheets, penalties, or goalkeeper saves.
In this brief analysis of how to score points in Fantasy Premier League, it's interesting that winning a penalty is considered an assist in this game if another player makes a goal from it. It's a big difference compared to the most popular football stats websites.
But players can also lose points. Yellow and red cards aren't something you want to see in FPL. According to the current Fantasy Premier League points system, a yellow card equals minus one point, and a red card means minus three points. It can hurt managers. Own goals are worth minus two points each. Moreover, every two conceded goals take one point from goalkeepers' and defenders' scores.
Additionally, the best players in every match receive FPL bonus points. Overall, there are six bonus points split between the three best payers. But who choose these players? Again, it's the algorithm based on a set of statistics. It's yet another example of when Fantasy Premier League community doesn't have the power to impact the final standings.
4.
FPL Captains
Choosing the right captain and vice-captain in Fantasy Premier League can be a game changer. Each week, managers decide which player will double his score. Is it better to choose Salah against Leeds at home or maybe Bruno Fernandes in an away game against Everton? The choice is yours!
Tactically, it's a very important decision. Usually, it determines whether your FPL game week is successful or not. If you choose poorly, you can lose several valuable Fantasy Premier League captain points. It may eventually trash your position in various FPL leagues and private mini leagues. The role of the vice-captain is to reduce potential loss – if your captain doesn't play due to injury or a technical decision, your vice-captain will take up the role and double his points.
As you may suspect, the better your knowledge about Premier League is, the bigger your chances to choose the right captain are. If you feel strong and confident about your EPL predicting abilities, we encourage you to join our free Tipster League with prizes. You can share your predictions ahead of Premier League matches and if your tips are good enough, you can rank among the top tipsters and win cash prizes without any entry fee. With the astonishing yearly prize pool of €30,000, you can earn significant extra money even every week!
Wondering how to get some extra money with your Premier League predictions?
5.
Fantasy Premier League Free Transfers
In FPL, you don't have to play with the same squad all season. Every game week allows you to make one free transfer. Above this limit, every additional move costs managers minus four points. You have to make FPL transfers within your team budget and according to the current players' values. If you use up every penny from 100 million pounds and want to replace Haaland (£11.5M) for Vardy (£9.5M), there's no problem. But if you want to do it the other way round, it would be impossible.
FPL players' values change based on transfers and the popularity of a particular player. So, if you pick some unsteady players before the season and they are off to a bad start, they will lose their FPL values pretty fast.
6.
What Are FPL Chips and Boosts
You can use a couple of FPL bonuses throughout the season. They make the game more attractive and impact the final standings. What are Fantasy Premier League chips?
6.1
Bench Boost
If you activate this chip, apart from your starting line-up, players on the bench score points, too. You can use this FPL bonus only once per season. It's probably the most valuable bonus as it gives you additional points from up to four players.
6.2
Triple Captain
While the captain doubles his score, with this Fantasy Premier League chip, the captain triplicates his score. How important is this bonus? Imagine your captain Salah scores 18 points. If you activate the Triple Captain boost before such a game week, Salah will give you 54 instead of 36 points. This FPL chip also can be used only once throughout the season.
6.3
Free Hit
What if you could completely change your squad for one game week without any minus points? That's when this Fantasy Premier League boost comes in handy. With Free Hit, you can make an unlimited number of transfers (within your budget). Once all matches end, your squad turns back to the previous state.
6.4
Wildcard
Because of the World Cup in the middle of the season, you can activate this FPL boost even three times. It allows you to change your squad completely (within your budget) without minus points. The wildcard is the most powerful of all Fantasy Premier League chips and boosts because the right moves may save your season and help you go up in the rankings.
7.
Fantasy Premier League Tips
Finally, we have some FPL tips for you. Our suggestions can help you make your season very successful. No matter whether you are a newbie or an experienced FPL player – our advice is suitable for everyone.
How to Win in Fantasy Premier League
Follow blogs and podcasts from FPL experts who share their advice about Fantasy Premier Lleague betting and tips for every game week
Watch matches and highlights to know the current form of Premier League players
Be patient – if Gabriel Jesus doesn't score in the first game week, it doesn't mean he won't score two next week
Don't give up – one bad game week isn't the end of the world!
We believe our Fantasy Premier League guide is enough to compete in FPL like a pro and feel more confident to play Fantasy Premier League with money. With so many interesting transfer moves during the summer, this season will be exciting, with the best players ready to help both their real teams and FPL managers. So, with the knowledge of how to play FPL and our Fantasy Premier League tips, we wish you luck and only the right choices throughout the season!