TwinSpires Offer Code
| Bonus Type: | Bonus Description: |
| --- | --- |
| TwinSpires Offer Code | See our code |
| TwinSpires Promo Code | See our code |
| Horse betting bonus: | Bet $500 in 30 days, get $100 and exclusive rewards |
| Wide range of contests: | Check the dates and details |
If you enjoy gambling on horse races, then you're going to love placing your bets at TwinSpires. TwinSpires is the most authoritative online wagering site that services both the Churchill Downs and the Kentucky Derby. Through this online platform, you can place your wager on practically any Thoroughbred, Harness and Quarter horse race from virtually any venue around the globe. TwinSpires is one of the newest types of account wagering today. It takes a bottom-up approach to gambling by combining the most cutting-edge technology available on the World Wide Web with ultimate racing content – and all of this is backed by the reliability of the world-famous and renowned Churchill Downs, the venue for the one and only Kentucky Derby.
1.
TwinSpires Offers
TwinSpires max bonus (maximum bonus online)
TwinSpires Offer Code March 2023
TwinSpires Offer Code April 2023
May 2023
June 2023
July 2023
August 2023
September 2023
October 2023
November 2023
December 2023
January 2024
February 2024
Players who choose to place their bets via the TwinSpires platform will receive a wealth of benefits, including: a 100% free wagering service, which has absolutely no subscription fees, a $100 sign-up bonus, which can be used directly toward your wagers, complimentary Brisnet Past Performances, Live streaming of the race, as well as race replayscomplimentary enrollment in the TSC Elite, the best player rewards program that is offered in horse racing, real time racing information, which includes odds, will-pays, any changes in the program, the conditions of the track and more, online deposit and withdrawal service via EZmoney, the advantage of the Refer-a-Friend program, which will grant you $50 and will give your friend $100. In order to get those exciting promotions you don't need to use TwinSpires promo code.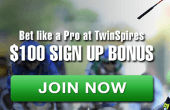 Get $100 Sign up Bonus at TwinSpires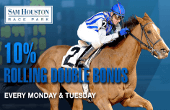 Check out daily promotional offer
2.
Overview of Wagers
If you're a newcomer to the world of horse racing, the first thing you want to do is familiarize yourself with the different types of wagers there are so that you know what type of bet you want to place. The types of bets that can be made range from a simple bet placed on one horse in one race to betting on the horses that are going to run in several consecutive races. What types of wagers are available? Here's a look at some of the different options:
Show: Your chances of winning are the best with this type of wager. To win, your horse has to place 1st, 2nd or 3rd and the prize is pretty modest.
Place: Chances of winning with this type of wager are also good. Your horse has to place 1st or 2nd and the payoffs are higher than a show wager.
Win: Chances of winning are average and your horse has to win the race. Your payoff amount is determined by the odds.
Quinella: The horses must place 1st and 2nd and the chances of winning are average
Exacta: Your chosen horses have to finish 1st and 2nd, in the exact order you placed them and the riskier your bet, the higher the payout. It's difficult to win with an exacta wager.
Trifecta: This is the hardest wager to win, but the payout is the best. Your horses have to finish 1st, 2nd and 3rd, in that exact order, in order to win.
3.
Welcome Bonuses Offered by TwinSpires
When you sign up to wager with Twin Spires, you will receive a welcome bonus, which will include:
$100 sign-up bonus
enrollment in the TSC Elite, the best rewards program for players in horse racing
No TwinSpires bonus code is required to get this promotion.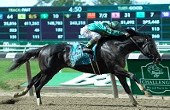 Horse Racing betting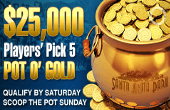 The best promotions
4.
Payment Methods with TwinSpires
Payments with TwinSpires are simple, thanks to EZmoney. All you have to do is set up an EZmoney account and your winnings will be deposited into that account. Once your winnings are deposited into that account, you will be able to withdraw them with ease. Wagering on horses has never been easier, thanks to TwinSpires.