1.
Casino Offer
Casino Gates max bonus (maximum bonus online)
Casino Gates Coupon code June 2022
Casino Gates Coupon code July 2022
August 2022
September 2022
October 2022
November 2022
December 2022
January 2023
February 2023
March 2023
April 2023
May 2023
Casino Gates immediately impresses when you hit the landing page, with sleek designs, animated icons, and smartly arranged games. In terms of visuals and aesthetics, Casino Gates gets a big tick. Navigation of the website is easy enough with a top toolbar dividing up the website into Slots, Casino and Scratch cards. As you'd expect based on the visuals of the homepage, the rest of the site follows suit with precisely tiled games and pretty thumbnails. The Slots available present the bog-standard themes, such as "Irish Luck" and "Chasin' Treasure" to please the masses whilst ensuring the games meet Casino Gates high standards. There's definitely a large enough selection to keep slot-fans engaged, and refreshingly, all of which upkeep Casino Gates benchmark we've seen so far.
Secondly, the Casino section of Casino Gate, although admittedly not extensive, gives you just about enough to stay stimulated and happy. Blackjack and it's variants as well as roulette with a few other additions basically make up the casino sector, but what is offered, is executed well with sleek graphics and curious gameplay. In future, Casino Gate may wish to improve and expand this section however.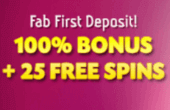 First deposit bonus on Casino Gates!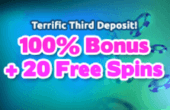 Third deposit bonus 100% up to £500!
It's clear from visiting the homepage and taking into account the prominence of the "Scratch" button on the top toolbar, Casino Gates provides Scratch cards. When the user clicks anxiously on the "Scratch" button, it is then surprising to see less than 10 scratch cards up for offer. Whether this is due to Casino Gates updating their selection, that's speculative, but it seems incredibly odd for Scratch Cards to take such importance across their website yet there being so little substance in reality. Aside from this oddity, the scratch gameplay itself is genuinely exciting and fun to play, with games such as "Lucky Fish" and "Go Bananas" presenting smooth visuals and addictive fun.